My six year old self was in heaven. I had finally walked onto the real-life set of 'The Sound of Music'. The only thing missing was Julie Andrews.
Fun Facts About Salzburg:
It was listed as a UNESCO World Heritage Site in 1996.

Salzburg is translated in English as 'salt castle'.

It was the birthplace of Mozart.

There is 27 churches within the city boundary. That's a lot.

I highly recommend Fräulein Maria's Bicycle Tours. They take you to all the filming locations of 'The Sound of Music'… all while singing. It is a once in lifetime experience.
Best Eats:
Bäckerei-Café Resch&Frisch - Cinnamon Roll

Gasthof Alter Fuchs - Beef Goulash

Spar - Cucumber Salad

Cafe Sacher - Sachertorte

Gasthaus Wilden Mann - Cheese Dumplings
Religious imagery is found throughout Salzburg. The depiction of Virgin Mary is a very common sight. The majority of Austria is registered as Roman Catholic. Religion feels much more ingrained into society than other parts of Europe I've visited. My favourite sound was listening to the bells ringing from Dom zu Salzburg, echoing off the surrounding mountains.
Next, we took the B158 to Hallstatt. It was roughly an hour and a half from Salzburg. However, my Dad and I stopped at little towns along the way; St. Gilgen, Bad Ischl, and Eisenaueralm.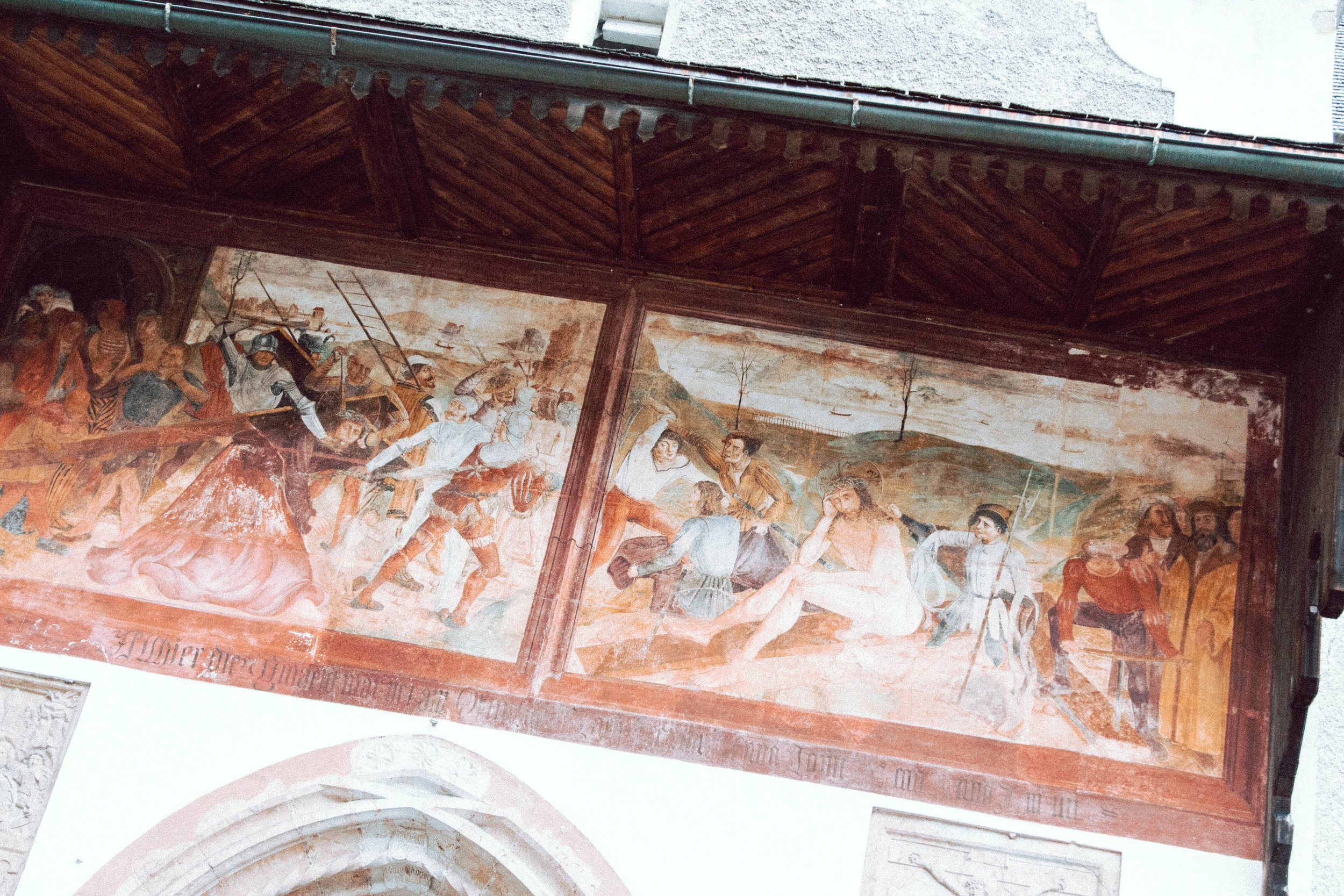 My Dad has taken me to some strange places, in the name of photography. However, Hallstatt Beinhaus wins hands down as the strangest location. Hallstatt is a very small town. In the 18th century, they ran out of burial space. In order to solve the problem, they exhumed the bodies from their graves and placed their skulls in a small chapel. The last skull was placed in the ossuary in 1995. Tourists can now visit Hallstatt Beinhaus, quite literally a room full of painted skulls.
The Sound of Music (1965)
I couldn't end without sharing this gem. Nothing sums up my (childhood) Sunday afternoons like Julie Andrews singing Do-Re-Mi.
Note: That last shot in the clip was filmed at the Mirabell Palace and Gardens. And yes… It still looks exactly the same as it did over forty decades ago.